Device Management:
Configuring Public View Monitors (PVM)
Public view monitors (PVM) connected an EnVR need to be configured in the Envysion app to complete monitor configuration. By default, the first 16 cameras are displayed on each connected monitor in a 4×4 grid layout. Up to 2 monitors may be connected per EnVR, 
Prior to following these steps, connect all your PVMs to the EnVR, so that they can be discovered and configured in one session. 
Configuring Monitors in the Web App
From the Watch Video interface, select the target and follow the steps below to configure monitors. 
Open Site Settings from the menu on the bottom left.

Select the Devices tab from the left navigation.

On the Monitors tab, select your monitor layout from the Layouts list on the right.

Drag cameras from the Cameras list to the Monitor Preview to display cameras for the monitor. 

To update the PVM configuration, click Apply Changes.
To discard changes to PVM configuration and return to the live monitor configuration, click Revert to Live.
To start with a blank PVM configuration, click Clear Preview. Note: Clearing the preview does not update the PVM settings until changes are applied.
Other Monitor Configuration Options
Additional options to configure PVMs are available under the gear menu: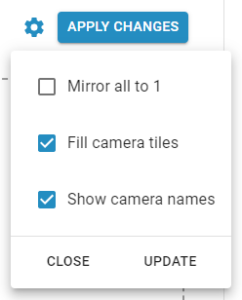 Mirror all to 1: mirror all other monitors to Monitor 1 so that all monitors connected to the appliance will have the same display.
Fill camera tiles: minimize black space by maximizing the camera display regardless of aspect ratios.
Show camera names: adds an overlay on the PVM of the camera name
Was this post helpful?
Let us know if you liked the post. That's the only way we can improve.
---