Cloud Storage:
Troubleshooting
Domain-Level Cloud Archive Status
The Cloud Archive configuration page provides a summary of your domain's current Cloud Archive service, as dictated your subscription, along with key domain- and site-level Cloud Archive health attributes:
Sites in your domain currently included in the Cloud Archive (excluded sites shown in gray)

Users can search their site list by those with Cloud Archive enabled, their name or health status
Site health as indicated by the cloud icon color
A "Health Summary" sidebar showing up to 10 sites with cloud archive issues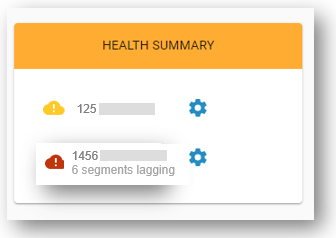 Site-Level Cloud Archive Status
By clicking on a specific site's health status icon, users can drill down to identify and troubleshoot specific issues with their Cloud Archive service, based on the previous 24 hours of video archive attempts:
Site health indicator

Green: No more than 24 hours behind in video archive, but with no service errors
Yellow: 24 to 40 hours behind in video archive; or exhibiting 1-3 service errors
Red: More than 40 hours behind in video archive; or exhibiting more than 3 service errors

Clicking to expand will display list of failed export messages from the appliance if there have been failures. Examples of issues that may result in failure of a system to archive video include:

An appliance that has been powered off, or otherwise fallen off-line
A failure of the appliance to connect to the archive repository
An appliance that has fallen significantly behind its exports such that it's no longer expected to catch up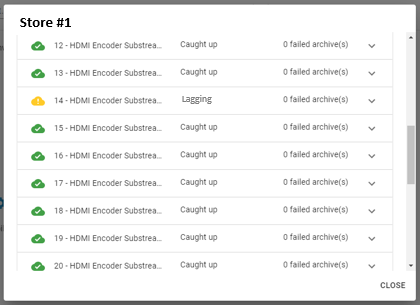 Prior to contacting Envysion Support, ensure your appliance is online and confirm that your Internet bandwidth as reported by the Envysion application is meeting minimum requirements for the service.
Was this post helpful?
Let us know if you liked the post. That's the only way we can improve.
---