Envysion Local:
Download Clips from Envysion Local
In the event that you need to download video footage from and EnVR and the sites Internet connection is down or impaired, Envysion Local provides an intuitive interface to export video clips to a USB mass storage device.
Accessing Envysion Local
Connect a keyboard to the back of the EnVR, access Envysion Local by holding Alt and then pressing Tab
Login into Envysion Local with your credentials

If you do not have Envysion Local credentials, reach out to Envysion support to request access
Downloading Clips
To download a clip of recorded video:
Set the date and camera view(s) as pictured below.
Insert a USB storage drive into an available USB port on the back of EnVR.
Click the Download button. The clips for the Individual cameras will be made available for download.
On the Download pop-up menu, mark the Enable Watermark and Download to USB (should already be
marked) checkbox. The Enable Watermark feature will create a text overlay on each clip that denotes
the date, time, EnVR, and Camera name. The Confirm Views list shows available video during the selected
timeframe. It is possible that no video will show if there was no motion detected OR if the camera was
offline during the selected timeframe.
Click the Download button and the clip(s) will download to your USB drive.
Once complete, you will be prompted to remove the USB Drive from the EnVR.
Connect the USB to a PC/Laptop and confirm the video is viewable.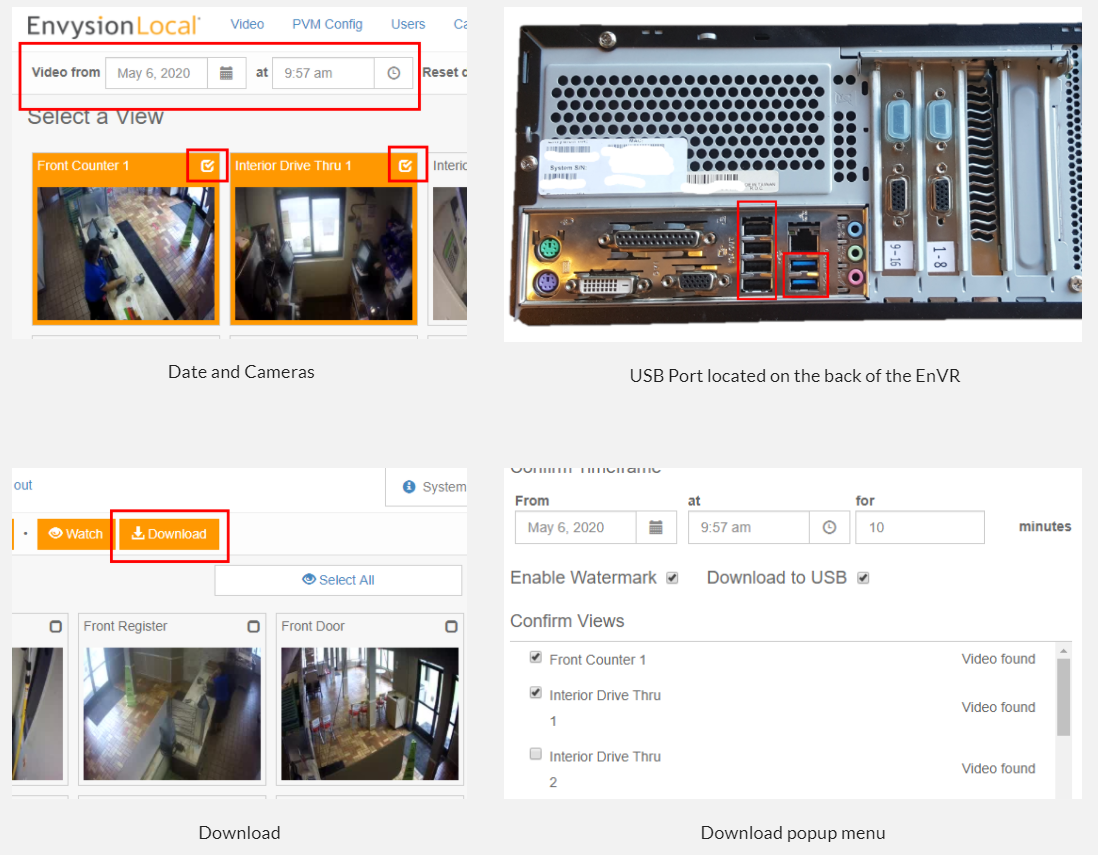 Customers should NOT be sending DVRs back to Envysion directly as a means to request footage be exported or preserved. If an ENVR is sent back to Envysion (warehouse) the customer should expect it will be wiped clean upon receipt.
Was this post helpful?
Let us know if you liked the post. That's the only way we can improve.
---