Physical Installation Procedures:
Connecting Analog Cameras
Analog and HD analog cameras can be recorded by Envysion by plugging them in directly to the back of a supported DVR or encoder thru its onboard BNC connections. These connections are highlighted in the DVR diagrams below. Analog cameras are not powered through the DVR; they will require a separate analog power supply, also depicted.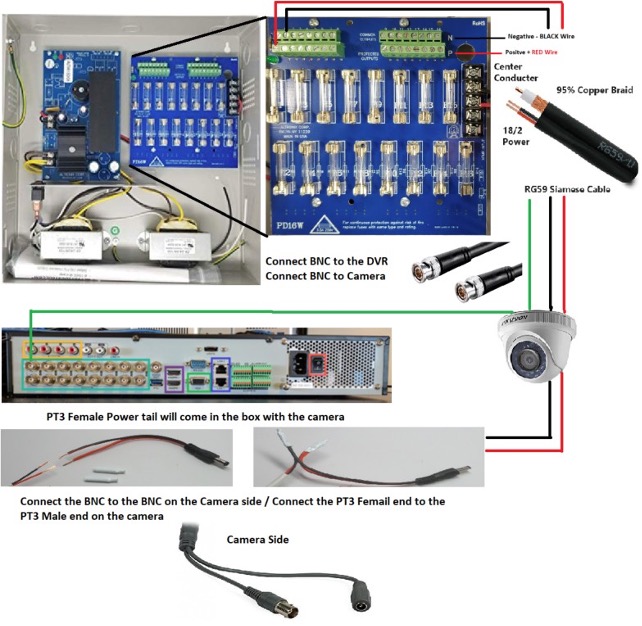 Connecting to an Analog Power Supply
Each analog camera needs to be connected using RG59 or RG6 / 18X2 (Siamese) cable (Note: RG59 specifies a maximum cable length of 750 feet; RG6 allows a maximum cable length of 1000 feet.) Each analog camera must be terminated at both ends with a BNC Connector (we recommend using Compression BNC connectors instead of Crimp connectors, because they give a more secure connection to the cable and are less likely to separate from the cable). You will need a BNC Compression or Crimp tool, Coax Cable Stripper, BNC Compression or Crimp Connectors to complete the work. Connect the BNC from cable-end to the BNC camera-end and connect the PT3 Female power lead to the PT3 Male end of the camera cabling (this connection will be above the ceiling).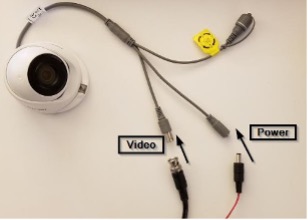 Connecting Siamese Cabling to an Analog Camera
Each video and audio cable that connects to a supported DVR or encoder must be labeled to indicate the port it was plugged into (e.g. "Port 3"). This allows a future replacement DVR to be easily reconnected with the same channel assignments as it has on the initial visit.
Was this post helpful?
Let us know if you liked the post. That's the only way we can improve.
---