Physical Installation Procedures:
Connecting IP Cameras to POE (Power Over Ethernet)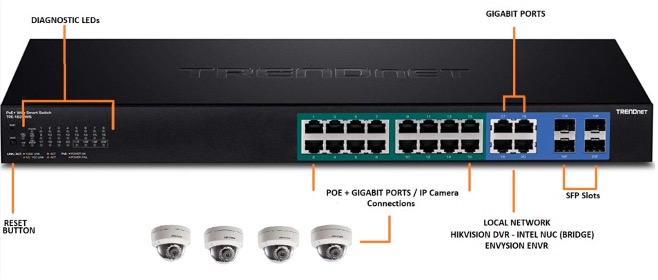 Connecting IP Cameras to a POE Switch
IP cameras will require a POE (power over ethernet) switch for power and need to be connected to that switch using properly terminated Cat5e / 6e cable. Connect IP Cameras to POE switch ports only so the cameras will get power and network connection. When cameras are connected successfully both the link and POE lights should illuminate. (Note: Cat5e specifies a maximum cable length of 300 feet between the peripheral devices and the POE switch.) Cable must be terminated at both ends with an RJ45 end using the T-568B pinout type.
Additional to connecting the IP cameras, each site will need to have one patch cable going from the POE's Gigabit Port to the on site network (Modem, Switch, etc) that gives provides the EnVR with Internet connectivity. Each site also will need to have 1 patch cable going from the Gigabit Port to the Envysion EnVR or EnVR bridge. In the case of a client that that requires a supported DVR or encoder to record from analog cameras, you will also need a patch cable going from the Gigabit Port to the supported DVR (Note: If there is no available Gigabit port, plug into one of the available POE ports).
To make these connections, you will need RJ45 Connectors and a RJ45 Crimper tool and we recommend using a cable tester to validate each cable run prior to connecting the devices at either end.
Was this post helpful?
Let us know if you liked the post. That's the only way we can improve.
---