Cloud Storage:
Cloud Archive Administration
Cloud Archive is configurable by users with the Cloud Archive Admin Capability added to their user Role.
For locations that have insufficient continuous Internet bandwidth or have subscribed to Cloud Archive for only a subset of their cameras (e.g. 8-camera Cloud Archive service, despite having twelve cameras on site), camera selection can be configured.
To access Cloud Archive configuration settings, select the "Cloud Archive" menu item from within the Administration (gear icon) controls in the upper right corner of the Envysion web app.
Selecting Cameras for Archive
To change your selection of camera, simply check or uncheck the box next to your camera of choice and click the "Save" button.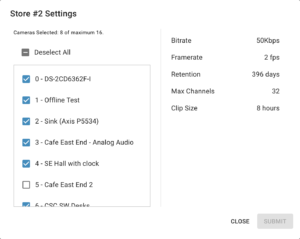 The archive process will begin for newly selected cameras once the new settings are applied. The system will not attempt to archive footage for any historical period prior to the camera being in the selected list. For cameras removed from the archive list, video will remain in the archive, but the system will make no further attempt to catch those cameras up to current (in the event the archive had fallen behind).
Was this post helpful?
Let us know if you liked the post. That's the only way we can improve.
---